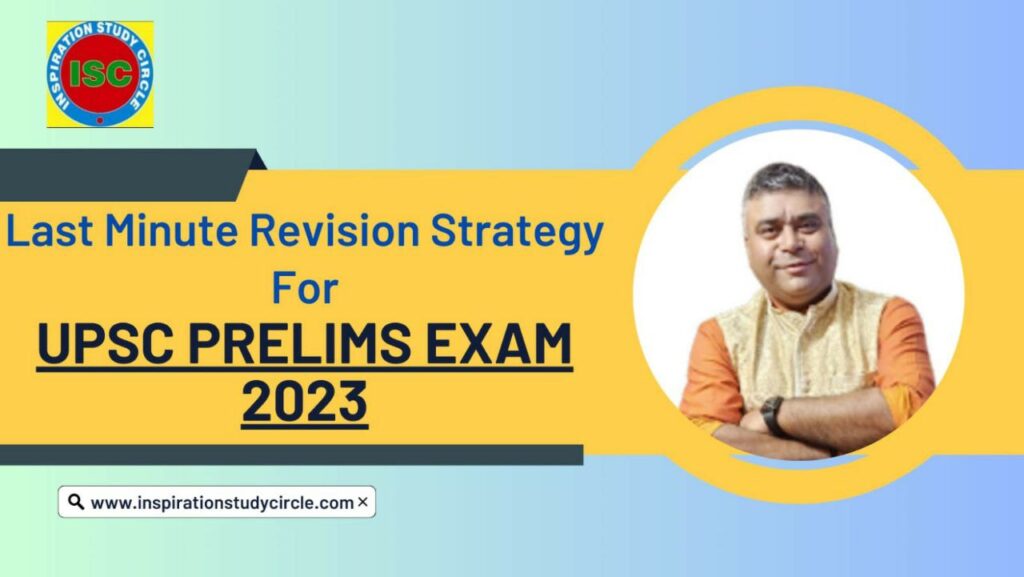 Last Minute Preparation Tips for UPSC Prelims!
The Union Public Service Commission conducts a series of annual examinations for recruitment to the most elite posts within the country's bureaucracy. The program starts with conducting UPSC Civil Services Prelims in the months of May to June, followed by UPSC Civil Services Mains and Interviews. Candidates who pass these assessment levels are then trained at the prestigious Lal Bahadur Shastri National Academy of Administration (LBSNAA) located in Mussoorie, Uttarakhand, India.
This year's preliminary exam will be held on May 28, 2023.
Every year more than 500000 candidates appear for the same. Candidates are nervous and overwhelmed with this year's exam around the corner. If you are one of them and looking for the right guidance, Inspiration Study Circle (ISC), the best coaching institute in Dehradun for preparation for UPSC and several other government and public exams brings you the key points and strategies to brush up your last-minute preparation.
Focus on Static General Studies
That is right! Good command over static GS can bring you the win in the prelim exam. Your clear command over the facts in history, geography, polity, economics, and general science can help you ace the exam with flying colors. The key to mastering static GS is repetitive revision throughout the year and a final brush-up of topics in the last ten days before the exam.
Revise the current affairs
Questions on the year's current affairs are very common as well as scoring in the prelim exam. A thorough revision of the year's current affairs, preferably month-wise, will support your final preparation.
ISC, the best civil services institute in Dehradun provides a complete bunch of monthly current affairs, both in English and Hindi to its students as well as on its website.
India Yearbook
As important as it is to learn and revise the Static GS and current affairs, a thorough revision of the India Yearbook will give the final blow for a great performance in the exam.
Do not start a new topic!
In the final few days before the exam, it is important to manage your time wisely and proportionately. Do not indulge yourself in starting a new topic. Be confident in your preparation and the hard work that you have put in all these months.
Mock Test Papers and PYQ papers
Every exam comes with the challenge of completing the given task in the stipulated time window. Mock test papers and Previous years' question papers are the best possible way to ensure accurate time management as well as the correct filling of the OMR sheet.
A complete series of Mock tests and subject-wise tests are available at Inspiration study circle. For more information, head over to our home page.
Revise your self-prepared notes
UPSC civil services exam demands you to know something of everything, which further asks for a commitment to learn and remember abundant facts and figures. The only way to achieve this is to revise, revise and revise. Revision from your shorthand notes will come in handy at this hour.
Revise and write!
It is a general observation that written revision is a better way of learning than verbal revision. Take a notebook and pen, and write down everything you know about a topic, in shorthand. That will not only help you learn better but your memory will retain the information for a longer time.
Mind Maps and Flowcharts
A recent survey on how learning and retaining works, has claimed that our mind registers things best when they are systematic and specific. A mind map or a flowchart is one such tool. Anybody can make a mind map on a given topic according to their need and order. This will not only narrow down the topic but will be easier to revise and eventually recall.
Be Positive and Relax!
You have been probably overwhelmed with all the preparation, thorough learning, and deadlines over the last year. It is time to be positive and calm, especially right before the exam.
Know that you have possibly given your best and have worked your fingers to the bone throughout. It is finally time to trust your preparation. Keep calm and a good result will come your way.
Take enough rest and eat an adequate diet
The most common phenomenon seen with candidates is that they a lot of pressure and avoid their health. This is not acceptable.
Sleep for an appropriate time of 6- 7 hours a day. To function sharply, your mind needs rest from all the work you have been putting into it.
A good and sufficient diet will keep you healthy and alert.
Exam day tips for UPSC Prelims
Double-check the timing and the location of your exam center on your admit card.
Carry your admit card as well as your identity proof for the exam.
Make sure you have all the requisites for the exam hall, especially extra pens.
Do not carry any electronic gadgets, especially mobile phones as they are not allowed.
Carry your water bottle and drink enough water during the exam, to keep yourself hydrated and calm.
Carefully read the instructions and questions before attempting.
If you have not used an OMR sheet before, make sure you read and understand all about it the night before the exam. Adequate information is provided on the Internet.
Maintain speed since the beginning of the paper.
If you doubt a question, do not mark an unsure answer right away. Leave it for the end.
Use the elimination method for the questions you are unsure about. This method is very effective in MCQ-type exams.
Watch out for questions that have 'NOT' in them. And then answer mindfully.
Be consistent in your CSAT exam. It may not add up to your final score, but it still needs to be qualified.
With this, we wish you all the luck for the approaching UPSC Civil Services prelim's exam on 28th, May 2023. We hope our tips will help you in the long term and will bring you desired results.
Wishes from Inspiration Study Circle, the best IAS/ PCS coaching institute in Dehradun.