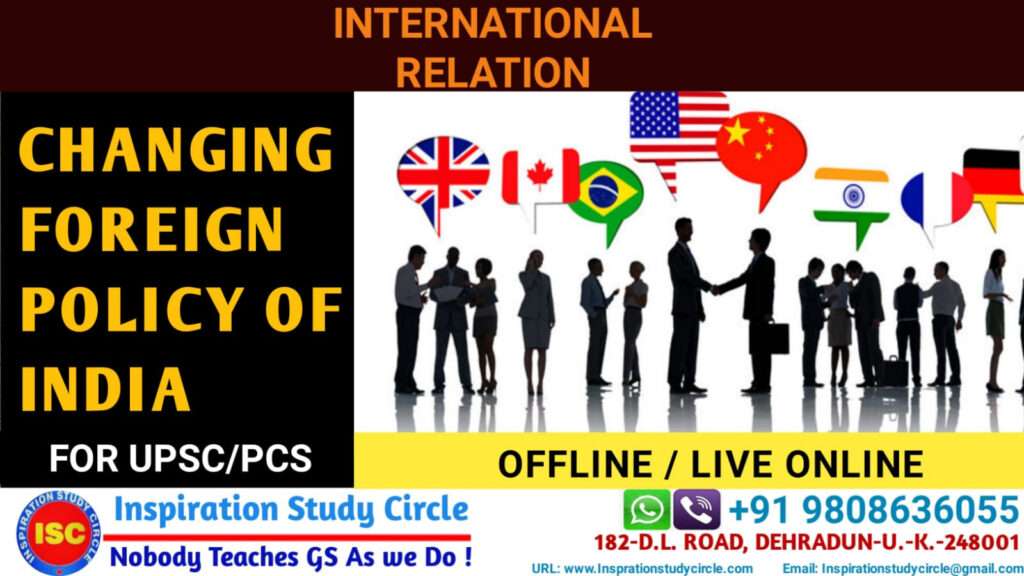 NEW FOREIGN POLICY OF INDIA
CHANGING NEW FOREIGN POLICY OF INDIA
Maneuver from no alignment to multiple alignments
India was a land of diversity. Cultural, political, regional, linguistic, philosophical, economic, religious, you name it, we have it.
As quoted by Vinay Sahasrabuddhe, "India is a civilizational nation in the world with a unique idea of philosophical foundations. For us, spiritual democracy exists and is firm and our ekam sat, vipra bahuda vadanti approach rejects any monopolistic approach.
Part of the world is struggling to adapt to multiculturalism, while India can live, build and succeed on its core values. While sustainability is slowly climbing the list of priorities for many countries, for us it has been at the heart of survival. Holding on to this metaphysical aspect, India steps into multi-dimensional geopolitics and prepares for a major shift in its foreign policy. From intensifying its ties with the US to concluding nuclear and defense deals with Russia, India has come a long way in cementing its multiparty ideology.
India's archaic foreign policy
The foreign relations of our country, the so-called post-independence modern India, have been more mysterious than simple. At one point, we wanted to establish ourselves as a peace-making nation, while border disputes  with  some  neighbors broke down.
Nehru's foreign policy (1947-1966) saw several major problems. Border conflicts with Pakistan and China have given way to several wars, not forgetting the Kashmir conflict between India and
As the world divided and took sides between West and East, India chose to remain This is where the very famous policy of non-participation came into being along with the non-participant movement.
Despite India's continued membership of the British Commonwealth of Nations, India saw Britain supporting Pakistan both politically and militarily over the Kashmir
There were efforts to protect the ambitions of the decolonized countries by holding a conference with the nations that bordered the Indian However, the implementation of the plan never saw the light of day.
The Soviet Union, enraged by India's tacit fraternization with America, supported Pakistan in the
In 1954, India's foreign policy was changed based on Buddha's five principles and came to be known as
Changes in foreign policy in the 1960s-1980s
In the words of Indira Gandhi, then Prime Minister, "The politics of a country is shaped by many forces—its position on the map and the countries that are its neighbors, the policies it adopts and the actions it undertakes, as well as its historical experience in the aggregate and in terms of its particular success of trauma."
India continued to be a non-participating Overall, we promoted disarmament and overall development. We held NAM summits in 1967 and again in 1983 to support the Afro-Asian countries and make a fair share of agreements with the states of the Soviet Union.
India's 1971 Treaty of Peace, Friendship, and Cooperation agreement with the Soviet Union severed its ties with the Additionally, US support for Pakistan during the Bangladesh Liberation War proved to be a draw.
The unconvinced US position on the Nuclear Non-Proliferation Treaty has caused further problems between the two nations. However, a meeting with Ronald Reagan, the newly elected President of the United States in the 1980s, brought success with the Tarapur Nuclear Power Plant Agreement and the designation of 1985 as the "Year of India".
Our continued support for the Palestinians on the Arab-Israeli issue has met with mixed reviews around the However, this did not prevent us from establishing diplomatic relations with Israel in time.
India saw increasing support and cooperation from Iran in the 1970s, both on the economic and military fronts, with around 75% of India's crude oil demand-supply from
India was mutually disrespectful to ASEAN during the 1960s-1970s due to our strong relations with the then USSR and our support for the emerging Our newly formed relationship with Vietnam did not fare any better.
India received support from only four African countries – Ethiopia, Kenya, Nigeria, and Libya during the Indo-China War of However, soon there was talk of establishing Africa-India development cooperation. However, we could not create a strong embassy in Africa due to Indian displeasure in a politically dangerous environment.
Due to India's continuous efforts and success in our foreign and economic fields, we enabled better relations with Africa in the 1970s, which led to further improvement in connectivity in all
Commonwealth meetings and conferences were very well utilized by Gandhi who suggested support and cooperation in our economic, cultural, and political affairs from the member
India's "Post-Cold War" Geostrategic Position
The end of the Cold War, after the fall of the Soviet Union in 1989, saw a new light for the nation. We no longer had to be divided into our geo-economic and geo-political aspects because of our disparate references. This gave way to a new set of multi- nation policies, including the signing of treaties at the suggestion of the Shiv Shankar Menon Committee. These were:
With China: 1993 Border Peace and Tranquillity
With the United States of America: The 2005 Civilian Nuclear
Rejection of force against Pakistan after the 2008 Mumbai
Our position on the civil war in Sri
The principle of no first use of nuclear
The Big Switch in foreign policy: New India
India's new foreign policy talks extensively about the concept of "survival of the fittest". We focus not only on a better future in terms of politics, economics, sustainability, and spiritual democracy, but we enable leadership in all aspects of livelihood. From skill development to hosting the G20, from promoting a digitized nation to playing the role of peacemaker in severed political ties, India is paving its way to becoming a multidimensional superpower in the next few decades.
Sewing better connections with the US
Indo-US bilateral conditions have seen a new dawn in the last two The two nations established this relationship not only for shared democratic and economic interests, but also to establish strong ties in defense, investment, trade, education, science and technology, cyber security, nuclear energy, health, climate, environment, and agriculture.
Diplomatic political visits by leaders (Prime Minister and President) of both parties ensured mutual trust and
The involvement of both India-US-Japan trilateral summits, India-US-Australia- Japan quadrilateral summits, and G20 summits is a global
Enhancing India-US dialogue has provided clarity and transparency, key ingredients for improving bilateral relations – a ministerial dialogue between the Ministries of Foreign Affairs and Defence; Economic and Financial Partnership, Trade Policy Forum, Oil and Gas Energy Partnership; internal security dialogue to name a
India went through various defense exercises with anti-US troops – Tiger Triumph, Vajra Prahor, Yudh Abhyas, Cope India, and Malabar
The year 2016 saw India recognized as a "major defense partner" of the We must not forget the elevation of India to Tier I Strategic Trade Authorization (STA) in 2018.
GSMOIA (Military Information Agreement) signed in 2002, LEMOA (Logistics Exchange Agreement) in 2016, COMCASA (Communications Security Agreement) in 2018, and BECA (Cooperation Exchange Basic Agreement) in
The establishment of the JCERDC (Joint Clean Energy Research and Development Center), an initiative within the PACE (Partnership to Advance Clean Energy), committed both states to support conventional and renewable energy sources.
Joint work of NASA and ISRO includes Mars exploration and human
The Indo-US Science Technology Forum (IUSSTF) established in 2000 is just a step ahead and has played an important role in strengthening cooperation in this area as well, along with the India-US Science and Technology Agreement signed in
Although various socio-economic and geopolitical issues have arisen between the two nations, India and the US have created a common platform for growth and global
Indo-Israeli relationship
India has a very wide kinship with Israel dating back to the early This bilateral relationship covers a broad dimension of diplomacy, defense, trade, science and technology, oil and gas, tourism, culture and perception, and belief.
Israel has sailed its most important and powerful ships to India through advanced military technology and types of equipment. According to the 2013-17 SIPRI report, Israel accounted for nearly 11% of India's arms
We must not forget the joint venture of the two countries as a channel for 'Make in India'.
Barak 1 Surface-to-Air Missiles (SAMs), IAI Unmanned Aerial Vehicles for Search, and Phalcon Airborne Warning and Control Systems (AWACS) to name a
Dialogue between India and Israel on rising terrorism, water conservation, climate change, and agriculture only contributes to better
India has largely benefited from Israel's expertise in technologies related to horticulture, wastewater treatment, micro-irrigation, and crop management. Now he will help with his expertise in drip irrigation
In the words of a former Israeli Prime Minister – India and Israel are friends and partners in this 21st
Reconciliation of India-Russia Relations
The 2000 India-Russia Declaration on Strategic Partnership agreement paved the way for a new quality of relations between India and
Although these relations have soured somewhat due to Russia's close involvement with China and Pakistan. However, the two nations have taken many steps to mend relations with each
In 2019, Prime Minister Narendra Modi received Russia's highest state honor – the Order of Andrew the Apostle – from Russian President Vladimir Putin.
IRIGC-TEC (Intergovernmental Commission on Trade, Economic, Scientific, Technological and Cultural Cooperation) and IRIGC-MTC (Intergovernmental Commission on Military-Technical Cooperation) were established to meet
Since 2017, there has been a deliberate increase in bilateral trade, amounting to a good $8.1
We developed our partnership from a buyer-seller position to jointly engage in R&D (research and development) in advanced military technologies, contributing to India's 'Make in India'
"INDRA" is a joint military exercise conducted regularly between the two countries involving all three
Joint military programs between India and Russia include the BrahMos cruise missile program, the Sukhoi Su-30 MKI program, the 5th generation fighter program, and the Ilushin/HAL tactical transport aircraft.
S-400 Triumf, T-90S Bhishma, INS Vikramaditya aircraft carrier, Foxtrot class, some of the highly advanced military aids are of Russian
The Kundankulam Nuclear Power Plant (KKNPP) under construction in India and the Rooppur nuclear power plant project in Bangladesh implemented by India and Russia are the main hubs of the Indo-Russian
Signing of Memorandum of Understanding for the Human Spaceflight Program during the 19th ISRO and ROSCOSMOS Bilateral Summit will bring the two nations closer
Not only these but there have been several exchanges in the fields of science and technology and culture and education during the last few
It is high time that both nations recognize and maintain mutual importance to balance growth on both
India-Japan ties
The common ground between India and Japan lies in the roots of spiritual, philosophical, democratic, and cultural We must not forget the shared faith in Buddhism.
One of the first peace treaties Japan ever signed after World War II was the India- Japan Peace
Japan urges recognition of India as a reliable nuclear power and cooperates in the peaceful understanding of nuclear energy
The involvement of both India-US-Japan trilateral summits, India-US-Australia- Japan quadrilateral summits, and G20 summits is a global
Both nations took military tri-service exercises very seriously and the regular involvement of coast guards only improved the
Trade and economic relations between India and Japan have expanded considerably over the past decade, making Japan the 4th largest investor in India in
Cooperation also continues in the field of health care, with the two countries consulting each other on projects under India's AYUSHMAN Bharat program and Japan's AHWIN.
India's Western Dedicated Freight Corridor (DFC) is a project funded by Japan's soft loan under
The 2016 India-Japan nuclear deal aims to help India boost its nuclear power capacity by
India and Japan are two nations that can become global powers in the coming years and reshape the role of Asian nations around the
India and Western Asia
The creation of the New QUAD, also called the Western QUAD by the media, will be highly effective for economic growth, climate change, energy, trade, political and social cooperation, and maritime
Much of India's imports and exports are covered by the UAE, which is India's third-largest trading partner, second-largest export destination, and eighth-largest The said roles will witness an increase in negotiations involving the India- UAE CEPA.
The corridor under construction that connects India to the Arabian Gulf leads through the Arabian Peninsula to Israel, Jordan to the European Union, and paves the way for better trade and economic ties between member
India and its Presidency over G20
India took over the G20 chairmanship from Indonesia on December 1, 2022, and will hold the post for one year. This offers India a unique opportunity to contribute to the global agenda on pressing issues of international concern.
India's G20 logo juxtaposes planet Earth with the lotus, India's national flower, and the theme is "Vasudhaiva Kutumbakam" or "One Earth – One Family – One Future"
The G20 is the leading forum for international economic cooperation, representing approximately 85% of global GDP, more than 75% of global trade, and approximately two-thirds of the world's population.
According to Prime Minister Modi, this term can be an opportunity for India to share its expertise in the areas of women empowerment, democracy, and digital technologies with the world.
As a country with core democratic values, India can show the world that the scale of conflict can end when democracy becomes a culture. This takes on significance amid the ongoing Russian-Ukrainian conflict.
India's foreign policy focuses on the "global common good". Through its G20 leadership, India hopes to extend this principle toward finding sustainable solutions to some of the key global challenges that arise from the interconnectedness of the world, such as climate change, new and emerging technologies, food and energy security, etc.
During India's chairmanship, Indonesia, and Brazil along with India would form the G20 troika.
It would be the first time that the Troika would consist of three developing countries and emerging economies.
As a result, it is expected that there would be a shift in the balance of power within the G20 in favor of emerging economies to have a greater share in decision-making in this grouping.
The G-20 presidency presents a great opportunity for India to correct the long- standing anomalies that go against developing countries, especially in the area of agriculture and food subsidies.
Branding and Reshaping
India is seen as the game changer in terms of extension of its external environment. It is time for India to look forward to creating inclusive development so that the benefits of growth reach the poorest of the poor in the country.
The need of the hour is to ensure that India's voice is heard in global forums and that India can influence world opinion on issues of global dimensions like terrorism, climate change, disarmament, and reforms of global governance institutions.