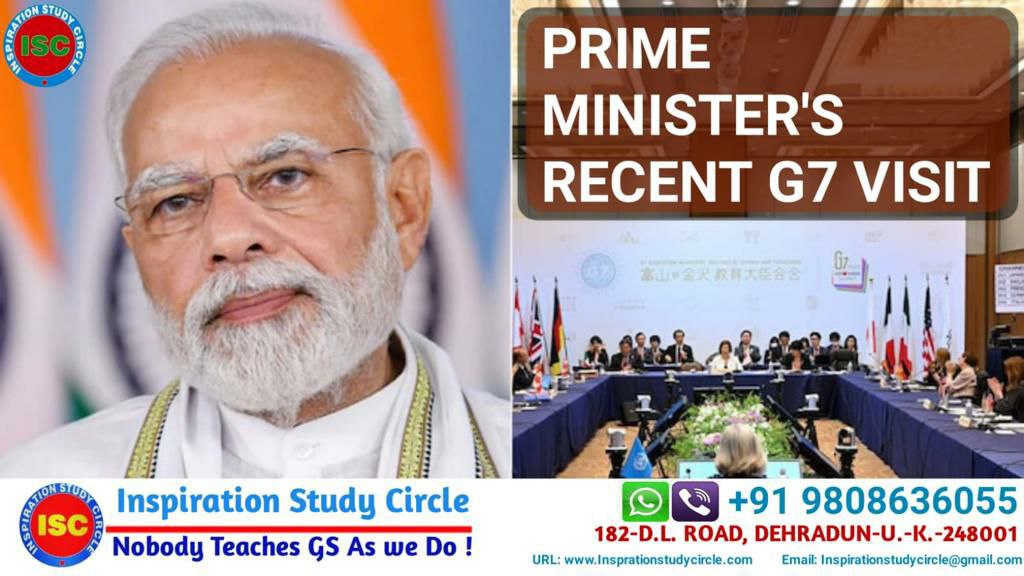 "PM Modi visits Japan, Papua New Guinea, and Australia for G7, FIPIC, and Quad Summits"
Prime Minister of India, Shri Narendra Modi was on a three-nation tour from the 19th of May to the 24th of May. The itinerary included the G-7 Summit in Japan and the Quad Leaders' Summit in Australia.
The honorable Prime Minister was in Hiroshima, Japan, from the 19th to the 21st of May, for the G-7 Summit, under the Japanese Presidency, accepting an invitation from the Japanese Prime Minister Fumio Kishida. This visit marked PM Modi to be the first Indian Prime Minister to visit Hiroshima after India conducted nuclear tests in 1974.
Following this, the PM arrived in Papua New Guinea on Sunday, the 21st of May, as a part of the second leg of his tour, making him the first Indian Prime Minister to visit the Indo- Pacific Country, where he was humbly welcomed by the country's Prime Minister James Marape.
This three-nation tour concluded with a stop in Sydney, Australia, where he attended the Quad Leaders' Summit, following the meeting with his Australian counterpart Anthony Albanese.
Finalizing the trip, the PM returned to India on Thursday, the 25th of May, and was warmly welcomed by BJP workers and supporters at Delhi Airport.
What is G-7?
G-7 or the 'Group of Seven', is an intergovernmental political forum consisting of seven member nations, viz, Canada, France, Germany, Italy, Japan, and the United States. The Group also views the European Union as its 'non-enumerated' member.
The G-7 arose from an ad hoc gathering of finance ministers in 1973 and since then went on to become a high-profile organization on the shared values of pluralism, liberal democracy, and representative government. The G-7 and the EU meet annually to coordinate solutions to some major global issues around the fields of trade, security, economics, and climate change. The G7 is not treaty-based and has no permanent secretariat or office.
Despite the lack of legal or institutional support, the G7 is widely considered to have significant international influence. It has catalyzed and led many major global initiatives.
The agenda for the 49th G-7 Meeting and PM Modi's Visit
Japanese Prime Minister Kishida welcomed the G7 leaders at the Hiroshima Peace Memorial Park and opened the three-day summit.
Kishida spoke of the importance of strengthening engagement with emerging and developing countries, aka the Global South, and adopted an approach to carefully respond to the diverse needs facing those countries.
The key points for this year's session were:
The first session was inclined to steer the world toward an International Community Characterized by Cooperation and Global Economy, and not Division and Confrontation.
G7 leaders agreed on the importance of maintaining a free and open international order based on the "rule of law" and strengthening outreach with international partners outside the G7, establishing two pillars.
The G7 leaders agreed to accord cooperation with international partners on the transition to a clean energy economy, creating reliable supply chains, and the necessity to strengthen the free and fair-trade system.
Discussions on the 'Hiroshima AI process' were made.
The G7's commitment to a "world without nuclear weapons" was reaffirmed and the "G7 Leaders' Hiroshima Vision on Nuclear Disarmament" was issued.
Chair Kishida touched on the importance of a coordinated response to the multiple crises the world is facing and expressed the expectations to promote solid investment under "Partnership for Global Infrastructure and Investment (PGII)" and "Multilateral Development Banks (MDBs)"
Economic security was discussed as an agenda item for the first time, including the resilience of the supply chain and critical infrastructure.
Participants shared the view that responding to the immediate food crisis and establishing resilient food security is of urgent importance. They agreed on issuing the "Hiroshima Action Statement for Resilient Global Food Security".
The G7 leaders reaffirmed that the G7 will continue to closely work together in responding to issues related to China as well as North Korea.
The G7 leaders concurred that they will continue their unwavering commitment to provide diplomatic, financial, humanitarian, and military assistance to Ukraine and reaffirmed their determination to restore peace in Ukraine and uphold the free and open international order based on the rule of law.
The impact of the Russia-Ukraine war on food security and nuclear non-proliferation issues dominated the agenda.
Prime Minister Narendra Modi's Take from the G-7 Summit: –
In a departure statement ahead of his tour, PM Modi said his presence at the G7 summit in Japan is particularly meaningful as India currently holds the Presidency of the G20.
As informed by the Foreign Secretary of India, our participation in the summit was structured around two formal sessions – the first on May 20th and the second on May 21st. India's regular participation at the G7 summits indicates an increasing recognition as a part of any serious effort to resolve global challenges including those of peace, security, and development.
PM Modi held a bilateral meeting with his British counterpart Rishi Sunak: –
During the meeting, the two leaders reviewed their strategic partnership, including taking stock of progress in India-UK FTA negotiations.
Ministry of External Affairs spokesperson Arindam Bagchi tweeted: "Leaders agreed to deepen cooperation across a wide range of areas, such as trade & investment, science & technology, higher education, and people to people relationship."
PM Modi on the State of Affairs in Ukraine: –
Ukrainian President Volodymyr Zelensky met with his biggest supporters at the Group of Seven meeting in Hiroshima on Sunday, hoping to contribute to his country's war effort even as Russia claimed a symbolic victory on the battlefield.
Prime Minister Narendra Modi stated that tension in any region affects all countries, especially developing countries. He further added that global peace, stability, and prosperity is our common objective.
'Current situation not issue of politics or economy, but of humanity,' says PM Modi on Russia-Ukraine conflict.
Modi assured Ukraine's President Volodymyr Zelenskyy that India will do "whatever is possible" to find a solution to the conflict.
More Updates from the G-7 Summit: –
US Secretary of State Antony Blinken met External Affairs Minister S Jaishankar on the sidelines of the G7 Summit in Hiroshima on Sunday.
Prime Minister Narendra Modi held fruitful and wide-ranging talks with Brazilian President Inacio Lula da Silva, in the light of the G-7 Summit. They discussed ways to deepen the bilateral strategic partnership, particularly in the areas of defense manufacturing, trade, and renewable energy.
FIPIC Summit in Papua New Guinea- the Second Leg of the tour
After he visited Japan, Prime Minister Narendra Modi traveled to Port Moresby, the capital of Papua New Guinea, to host a major summit between India and 14 Pacific Island countries aimed at boosting bilateral ties.
Upon his arrival, Prime Minister Modi was warmly welcomed by Papua New Guinea PM James Marape, who touched Modi's feet, which was followed by a hug between the two prime ministers.
What is FIPIC?
Forum for India- Pacific Islands Cooperation, abbreviated as FIPIC is a multinational grouping developed in 2014 for cooperation between India and 14 Pacific Islands nations which include Cook Islands, Fiji, Kiribati, Marshall Islands, Micronesia, Nauru, Niue, Samoa, Solomon Islands, Palau, Papua New Guinea, Tonga, Tuvalu, and Vanuatu.
The Forum was launched during Hon'ble Prime Minister, Mr. Narendra Modi's visit to Fiji in November 2014. The FIPIC initiative marks a serious effort to expand India's engagement in the Pacific region.
At its launch event, India offered some major support projects, including climate change and clean energy, establishing a trade office in India, Pan Pacific Islands e-network to improve digital connectivity, extending visa on arrival at Indian airports for all the 14 Pacific Island countries, cooperation in space technology applications for improving the quality of life of the islands, and training to diplomats from Pacific Island countries.
The Second Summit of the Forum for India Pacific Cooperation (FIPIC-2) held in Jaipur on the 21st and 22nd of August 2015 has made significant progress in strengthening India's engagement with 14 Pacific Island countries. During this meeting, the Hon'ble Prime Minister announced the FIPIC Trade Office at the Federation of Indian Chambers of Commerce and Industry (FICCI) to promote trade and investment opportunities between India and Pacific Island countries.
General Trivia: Despite the size and considerable distance from India, most of the islands have an exclusive economic zone (EEZ). EEZ is the boundary of the coastal state's oceans that contain living and non-living resources. It usually extends 200 nautical miles or 230 miles (about 370 km) from a country's territorial sea.
Key Points of this year's FIPIC Summit at Papua New Guinea
Prime Minister Narendra Modi held the FIPIC Summit in Papua New Guinea and met with heads of state and representatives of Samoa, Vanuatu, Tuvalu, Cook Islands, Kingdom of Tonga, Republic of Nauru, Solomon Islands, Republic of Kiribati, Marshall Islands, Fiji. and Niue.
Addressing the third FIPIC summit, PM Modi said that the Pacific Island countries can count on India as a reliable partner.
The Prime Minister said: "India is proud to be your development partner. You can count on India as a reliable partner. We are ready to share our experiences and capabilities with you without hesitation. We believe in multilateralism and support a free, open, and inclusive Indo-Pacific".
Papua New Guinea PM James Marape hailed PM Modi as the leader of Global South.
PM Marape said: "We all come from a shared history. A history of being colonized. History that holds the nations of the Global South together. I thank you (PM Modi) for assuring me in the bilateral meeting that as you host G20 this year you will advocate on issues that relate to the Global South; We are victims of global powerplay. You (PM Modi) are the leader of Global South. We will rally behind your (India) leadership at global forums."
Modi and PM Marape launched a translation of Thirukkural into the country's spoken Pisin language, co-authored by Sasindran Muthuvel, governor of the West New Britain province of Papua New Guinea, and linguist Subha Sasindran. (The Thirukkural is a classic Tamil text consisting of over 1,330 short kurals or 7-word kurals.)
Prime Minister Modi and James Marape discussed ways to strengthen bilateral relations and cooperation in sectors such as trade and investment, health, capacity building and skills development, and information technology.
The two Prime Ministers discussed issues related to climate change and people-to-people relations. Prime Minister Modi reiterated India's support and respect for the Pacific Islands' priority.
Visit to Australia- the third leg of the tour
With the Quad Summit being canceled to be held in Sydney, due to the unavailability of US President Joe Biden, under some crucial discussions in Washington, PM Modi moved ahead with his Australian trip to have bilateral meetings with Australian Prime Minister Anthony Albanese, top business CEOs, and the Indian Diaspora in Sydney.
Quad Summit- An Overview
The Quadrilateral Security Dialogue (QSD), commonly known as the Quad, is a strategic security dialogue between Australia, India, Japan, and the United States that is maintained by talks between member countries.
The dialogue was launched in 2007 by Japanese Prime Minister Shinzo Abe with the support of Australian Prime Minister John Howard, Indian Prime Minister Manmohan Singh, and US Vice President Dick Cheney. The dialogue was paralleled by joint military exercises of an unprecedented scale, titled Exercise Malabar. The diplomatic and military arrangement was widely seen as a response to China's growing economic and military power.
This year's 'Quad Leaders Meeting' was supposed to be held in Sydney, Australia between the 22nd and 24th of May 2023.
Highlights of Australia Visit:
The Prime Minister was accorded a ceremonial welcome and a guard of honor on his arrival at Admiralty House.
The activities of other groups and conflicts with people of Indian origin were also discussed as PM Modi reiterated his concerns about vandalism and attacks defacing community centers and temples with pro-Khalistan, anti-India, and anti-Modi graffiti.
The "Three D's" PM Modi said to bind the two countries today — Democracy, Diaspora, and Dosti [Friendship].
The two leaders attended a mega community event at the Qudos Bank Arena in Sydney Olympic Park and PM Narendra Modi announced that India will open a new consulate in Brisbane soon.
Discussions focused on cooperation in defense and security, trade and investment, new and renewable energy, green hydrogen, critical minerals, education, migration and mobility, and people-to-people relations.
The two leaders welcomed the signing of the India-Australia Migration and Mobility Cooperation Agreement (MMPA). It facilitates the mobility of students, professionals, researchers, academics, and others, including through a new skills pathway called MATES (Matching for Mobility of Early Talented People). scheme) was created specifically for India.
They reiterated their determination to ensure a peaceful, prosperous, and inclusive Indo-Pacific region underpinned by the rules-based international order.
Reform of the US Security Council was also discussed.
Way Forward for India
India is seen as a game changer in terms of expanding its external environment. It is time for India to look forward to creating inclusive growth so that the benefits of growth reach the poorest in the country.
Our country is on the path of a World-Wide exhilaration. Our voice is being heard in global forums and India can influence world opinion on issues of global dimensions like terrorism, climate change, disarmament, and reforms of global governance institutions.
Disclaimer: The above editorial is based on the following sources of information: Indian Express, Business Today, and Wikipedia.