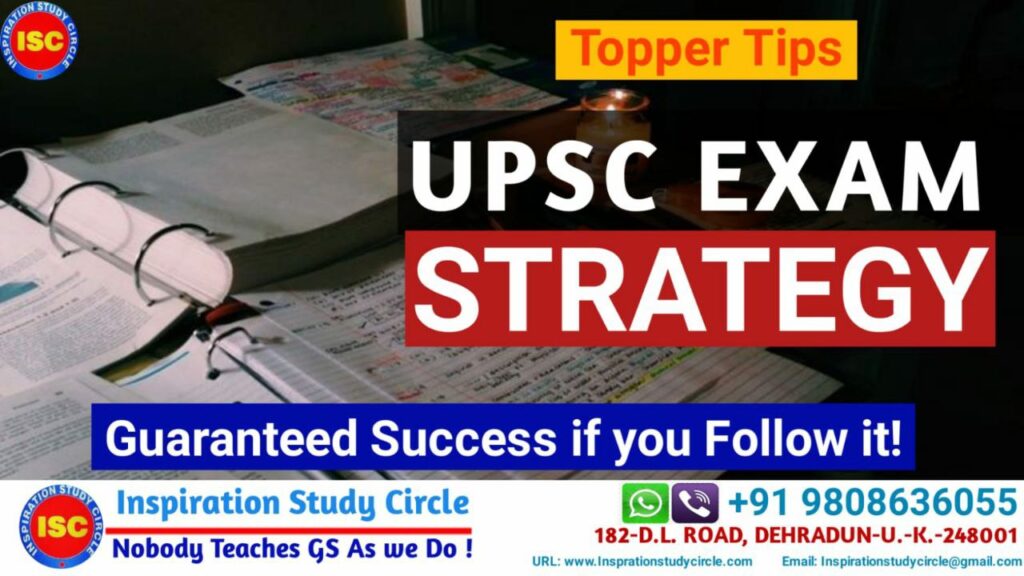 UPSC Preparation Strategy - What to prepare? How to Study?
Union Public Service Commission has announced some major civil services exams for this year. The first thought that comes to the minds of the candidates is 'What should be the exam strategy for excelling in the UPSC exams?'
Inspiration Study Circle, the best coaching institute in Dehradun for Civil Services Exam preparation, brings to you the plans and key points to be followed during your preparation.
Let's begin with learning about the exam pattern and then the step-building strategy.
UPSC exam pattern, syllabus, and stages
The first step to ace the UPSC civil services exam is to get acquainted with the syllabus and exam pattern that is followed every year. The civil services exam is divided into three consecutive stages- the prelims, the mains exam, and the interview.
Stage 1: The Preliminary Examination
The UPSC civil services prelims exam has two papers: Paper 1 and Paper 2. The paper-wise content, duration, and weightage are as follows:
 

Total No. of

Questions

Maximum

Marks

Time

Duration

Topics covered
Paper 1 (General Studies)
100
200
2 hours

·        Indian History

·        Geography

·        Indian Polity and Governance

·        Economic and Social Development

·        Environment

·        General Science

·        Current affairs
Paper 2 (CSAT- Civil Services Aptitude Test)
80
200
2 hours

·        Comprehension

·        Interpersonal Skills

·        Logical and Analytical reasoning

·        Decision Making and Problem- Solving

·        Mental Ability

·        Basic Arithmetic

·        Data Interpretation

·        English Language and Comprehension
The above said topics with the techniques for solving them are covered thoroughly at Inspiration Study Circle, Dehradun.
The candidates must remember that there are a limited number of attempts and age criteria.
The minimum age to appear for the UPSC Civil Services exam is 21 years.
Category-wise Number of attempts and Age Criteria
| | | |
| --- | --- | --- |
| Category | Max. No. of attempts | Age Limit |
| General and EWS | 6 | 32 years of age |
| OBC | 9 | 35 years of age |
| SC/ ST | Unlimited | 37 |
Marking Scheme of UPSC Civil Services Prelims
| | | | |
| --- | --- | --- | --- |
| Paper | Marks awarded for every correct answer: | Negative Marking? | Marks deducted for every wrong answer: |
| Paper 1 (GS) | 2 Marks | Yes | 0.66 Marks |
| Paper 2 (CSAT) | 2.5 Marks | Yes | 0.83 Marks |
Important Points:
• If a candidate happens to give more than one answer for a question, it is considered wrong, irrespective of any of them being correct.
• It is mandatory to cross the expected cut-off marks in Paper 1 and 33% minimum marks in Paper 2.
Stage 2: The Main Examinations- Written
Once a candidate successfully clears the preliminary exam, he/she is qualified to move to the next stage which is the mains exam.
Syllabus and exam pattern for UPSC mains exams
| | | | | |
| --- | --- | --- | --- | --- |
| Paper | Name of the Subject | Nature | Maximum Marks | Duration |
| Paper A | Indian Language | Qualifying | 300 | 3 hours |
| Paper B | English Language | Qualifying | 300 | 3 hours |
| Paper I | Essay Writing | Merit- ranking | 250 | 3 hours |
| Paper II | General Studies I | Merit- ranking | 250 | 3 hours |
| Paper III | General Studies II | Merit- ranking | 250 | 3 hours |
| Paper IV | General Studies III | Merit- ranking | 250 | 3 hours |
| Paper V | General Studies IV | Merit- ranking | 250 | 3 hours |
| Paper VI | Optional Paper I | Merit- ranking | 250 | 3 hours |
| Paper VII | Optional Paper II | Merit- ranking | 250 | 3 hours |
How to choose your Optional Subject for Mains Exam?
Preparing and excelling in the mains written exam for languages and general studies is one thing, and to stand out in line in your optional subject paper is another story.
The written exam for an optional subject which accounts for two papers, papers VI and VII, can bring in a huge advantage with a weightage of 500 marks out of a total of 1750.
Here are some quick bits which if kept in mind while choosing the optional subject, can give an upper hand to the candidates.
• Try going for a subject that you have studied in your graduation and post- graduation.
• This will prove to be a trump card not only from the marks point of view but prior knowledge of your subject will give you enough time to spend in other
subjects.
• Candidates can also go for an acquired interest or absorption.
• If you are a candidate whose reappearing in the exam, make sure you peek a look at your marks in the previous attempt/s.
• Check for the easy availability of proper guidance and study material.
• Be careful and alert of the syllabus and kind of questions.
• If you are still undecisive, take some advice from someone who has experience and knowledge in this area.
The third and final phase of the selection procedure is a live personality test conducted in the form of an interview.
The questions for the UPSC interview are designed and asked to not only just judge a person's intellect but to test their mental accuracy on so many different levels.
The criterion is very basic and is compiled of social and general awareness, human etiquettes, general awareness, self-confidence, intelligence as well as emotional quotient.
The interview is more like a discussion to look into one's mental capacity and ability for decision-making and comprehensiveness.
Some on-the-go pointers to master the preparation for the interview are here for your help:
• The first and foremost step is to prepare the contents of your DAF (Detailed Application Form).
• You will be asked for your opinion on current as well as contemporary topics.
• Thoroughly read newspapers and national magazines, especially editorials.
• The questions regarding your optional subject and your highest academic qualification will also crop up. Make sure you prepare them thoroughly.
• The most common but most qualifying questions are behavioural and situation based.
• The candidates should never take the interviewer for a ride. Lies and exaggeration should be avoided.
• Candidates should be attentive to their choice of words.
• Be thoughtful and welcoming.
• The candidate's attire should be formal, neat, and comfortable.
ISC, Dehradun conducts a series of mock interviews serving not only a practice session with some of the eminent personalities but also suggestions and preparation exercises.
How to carry off the UPSC preparation well?
UPSC has a practice of announcing its calendar a year before the exam starts, this gives a candidate an advantage to plan their schedule accordingly and prepare wisely.
The following hints can be of great use:

• The first and most important thing is to understand the UPSC Civil Services Prelims Exam Syllabus and Pattern.
• Break down the entire journey into short-term goals.
• The whole syllabus should be well divided and read along with regular revision.
• Focus on one topic at a time and divide your time accordingly.
• The NCERT books should be read and learned first, and then the writer- specific works required as per the UPSC syllabus.
• Make your short notes on the content and daily current events.
• Always look around for debates and discussions that provide quality and knowledge to your brain. This is the best workout ever.
• Read! By reading, you will not only expand your vocabulary but also expand your horizons of knowledge.
• Read specific works such as books on culture, politics, opinion pieces, newspapers, and especially editorial columns.
• Make sure whatever you have been working on is revised regularly, at least twice.
• Current events must be regularly recorded and thoroughly revised. They create a good pile of questions and help with long-term knowledge goals, especially for mains and interviews.
• Clarify your basic doubts and queries.
• Focus on the CSAT. However, it is qualified but candidates must clear the cut- off in it.
• Prepare to practice previous years' questions and mock tests.
• Your strategy may have different steps in each stage of preparation, but the work should be continuous.
• Make sure you do not waste much time on social media. Rather make use of the internet and various social media platforms.
Inspiration Study Circle provides a wide variety of information on the tips of your fingers. You can easily access us on WhatsApp, Facebook, and Instagram. Our website is frequently updated for the candidates' benefit.
How can ISC contribute? What do we offer?
No rule book says that you must consider coaching or a training centre for UPSC exam preparation. A disciplined and dedicated self-studying candidate can ace the exam with his/her consistency.
However, proper, and complete guidance will only make a candidate's journey and preparation not only easier but will lead the candidate head-on. After all, there is no harm in going the extra mile.
Inspiration Study Circle: the best IAS/ PCS Coaching institute in Dehradun provides candidate-friendly programs for the finest in the UPSC Civil Services Exam.
• We conduct detailed classroom lectures with a small batch at a time to encourage more student-teacher interaction.
• A daily average class duration is of about 3- 4 hours providing the candidate enough time for self-study and practice.
• Each lecture is an equipped smart class for better and more conducive understanding.
• Digital classrooms following the hybrid teaching method.
• Conduction of online classes for those candidates who are unable to attend physically.
• Provision of monthly current affairs.
• Discussion on critical, current, and contemporary topics within the class itself.
• Regular study material.
• An approach to teaching that covers prelims and mains together.
• A series for writing practice for mains exams.
• Test Series for Prelims and Mains.
• Mock Interviews with some distinguished personalities.
The UPSC Civil Services recruitment system measures a candidate's administrative quotient, along with his absorption ability to adapt to the country's highest-rank jobs.
Though a candidate must manifest some of these traits naturally, with appropriate guidance, knowledge, and training, the dream of being in the country's bureaucracy can become a reality. Thus, we say that success will knock on your door with a mixture of both your conscientiousness and instructions in the right direction.